Dr. Jane Goodall discussed endangered species issues at China Science and Technology Museum and announced the publication of the Chinese version of her book, Hope for Animals and Their World on September 16, 2010.
During the discussion, Goodall imitated the cries of chimpanzees and introduced the efforts of preserving endangered species in China, including nippon, giant panda, and Milu deer. She also shared the book's most impressive of rescuing New Zealand black robin from the brink of extinction. Prof HUANG Chengming from National Zoological Museum of China, Prof. DING Changqing from Beijing Forestry University, and LIU Xiaodong, a member of Roots & Shoots China, introduced their first-hand experiences in protecting endangered species.
Goodallis world-renowned for her pioneering research in chimpanzee behavior initiated in Gombe National Park in Tanzania in 1960. Over the course of her 38 years' study, Goodall found evidence of mental traits in chimpanzees such as reasoned thought, abstraction, generalization, symbolic representation, and even the concept of self, all previously thought to be uniquely human abilities.
In 1977, Goodall established the Jance Goodall Institute (JGI), which supports the Gombe research and has nineteen offices around the world. Its global youth program, Roots & Shoots began in 1991 and has over 10,000 groups in over 100 countries now.
Goodall spends nearly 300 days each year touring around the world to spread awareness about environmental conservation and empower individuals to take informed and compassionate action to improve the environment for all living things. In recognition of China's increasing impact on the global environment, Goodall has identified China as a priority growth area for JGI and visits China almost each year since 1998.
Goodall has received many honors for her environmental and humanitarian work, including Commander of the Order of the British Empire presented by Her Majesty Queen Elizabeth II in 1995, and United Nations Messenger of Peace named by the then Secretary-General Kofi Annan in 2002.
Goodall is also the author of many acclaimed books, including the best seller Reason for Hope. Hope for Animals and Their World, a book she coauthored with Thane Maynard and Gail Hudson, was published in 2009. Its Chinese version, cotranslated by Prof. HUANG, will be published in 2011.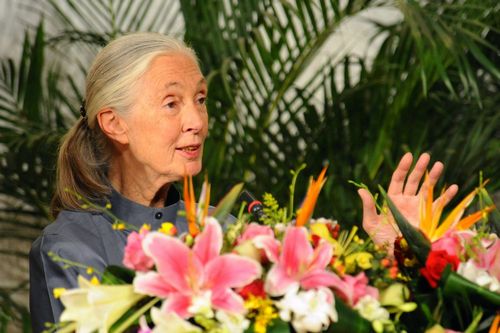 Dr. Jane Goodall discussed endangered species issues
They introduced their first-hand experiences in protecting endangered species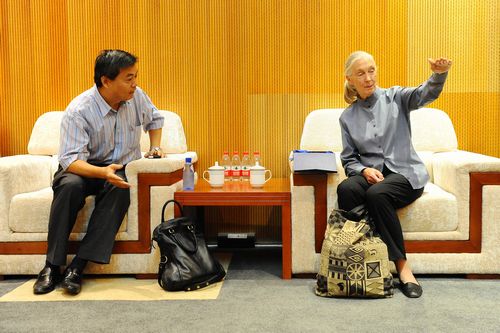 Dr. Jane Goodall and Dr. HUANG Chengming