The 5th International Symposium of Integrative Zoology (ISIZ) was held 25–28th June 2013 in Beijing, China, hosted by the International Society of Zoological Sciences (ISZS), China National Committee for International Union of Biological Sciences (CCIUBS) and Institute of Zoology (IOZ) at the Chinese Academy of Sciences (CAS).
ISIZ is held irregularly between intervals of the International Congress of Zoology (ICZ; started in Paris in 1889), hosted by ISZS. The theme of the 5th ISIZ was Biological Consequences of Global Change (BCGC).
Yaping Zhang, Vice President of CAS (left), delivering the opening speech and Nathalie Fomproix Executive, Director of IUBS (right), delivering remarks, at the 5th ISIZ Opening Ceremony
Nearly 100 scientists from 13 countries attended the Symposium and over 50 people reported their research and participated in workshops at the meeting. Yaping Zhang, Vice President and Academician at CAS, Yingnan Liang, Deputy Director, Department of International Relations at China Association for Science and Technology (CAST), Le Kang, Director of IOZ and Academician at CAS, and Nathalie Fomproix, Executive Director of the International Union of Biological Sciences (IUBS) spoke at the Opening Ceremony, chaired by Zhibin Zhang, Professor at IOZ, CAS, President of ISZS and Vice President of IUBS. 

Yingnan Liang (left) and Le Kang (right) delivering remarks at the Opening Ceremony
Other honorable guests at the ceremony included John Buckeridge, President Emeritus of ISZS and honorary Editor-in-Chief of Integrative Zoology (INZ), the official journal of ISZS; Jean-Marc Jallon, Immediate Past President of ISZS; Abrahan Haim, Vice President of ISZS; Yoshitaka Nagahama, Vice President of ISZS; Ronghui Su, Deputy Director General of Bureau of Major Research and Development Programs, CAS; Jinghua Cao, Deputy Director General of Bureau of International Cooperation, CAS; Jianhui Jin, Bureau of Planning, CAS; Xiaobo Ren, Bureau of Major Research and Development Programs, CAS; Zhenliang Yu and Ling Chen, Life Science Division, China National Natural Science Foundation, and many others.

Zhibin Zhang, President, ISZS and Vice President, IUBS (left) chairing the 5th ISIZ; 5th ISIZ group photo taken on 26th June 2013
CAS Vice President Yaping Zhang pointed out in his speech that in the 21st century, our planet is facing tremendous challenges from accelerated global change, due to both climate warming and human activity. He noted biodiversity losses, species extinction, environmental pollution, pest outbreaks, disease pandemics and many other things can be linked to BCGC. Unfortunately, the impact of global change is largely unknown and this greatly limits our capacity for preserving and managing biological resources on our earth. As a result, there is a much need to study BCGC using international collaborations.

Antarctic Peninsula under change (left); the South Scotia Ridge Neolepadinae (right) (Photos from the Symposium presentation by John Buckeridge)
In 2008, ISZS initiated an international research program concerning BCGC. This program was first supported by the Bureau of International Cooperation, CAS. In 2009, the program was adopted by IUBS. Over 20 scientists worldwide are actively involved the BCGC Program. A number of BCGC symposia were held and three issues of INZ have been published under the theme of BCGC, or related topics such as biological invasions and endangered species conservation. 
BCGC is a global phenomenon and it requires a global response. This Symposium provided a platform for scientists around the world to share information concerning BCGC, compare research results and develop techniques to plot out a practical approach to future collaborative research directions.
In order for the attendees to have a hand-on experience, on-site information and further interaction, the Symposium organized a BCGC Workshop at the Grassland Ecosystem Research Base of IOZ, CAS in Xilinhot, Inner Mongolia, China, 29–30th June 2013. 15 scientists from 6 countries attended the Workshop. Haiqing Chen, Secretary General of the Xilingol Government; Fusheng Li, Head of Xilingol Forestry Department; Xiang Bao, Head of Xinlingol Grassland Station; and Liguo Hong, Head of Xinlinhot Pastures attended the Workshop. Participants of the Workshop also visited the Xilinhot Field Research Station of Plant Protection Institute, the Agricultural Academy of Sciences, China.
The Grassland Ecosystem Research Base was established by IOZ, CAS in 2008. The primary research at the Base is BCGC, especially the consequences of climate change and human disturbance. By using artificial precipitation and cattle grazing, the research focus is on population and community dynamics.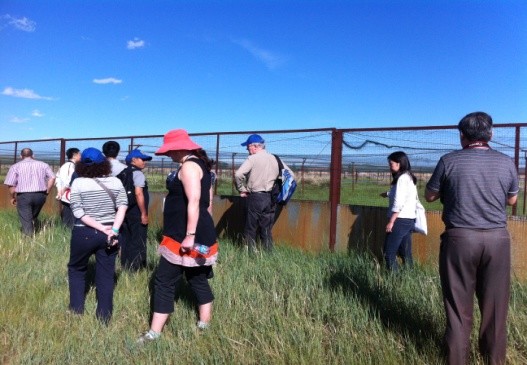 Workshop attendees visiting experiment enclosures at the Base (right)
On 27th June, an INZ–Wiley Seminar was co-organized by INZ and John Wiley & Sons, Inc, the publisher of INZ. Wenhua Xiong, Executive Director of ISZS and Editor at INZ briefly introduced the Journal. John Buckeridge, Professor of Natural Resources Engineering, RMIT University, Australia and Honorary Editor-in-Chief of INZ delivered a presentation entitled "Drawing a line in the sand: differentiating emulation (imitation) from intellectual theft." Carol Bacchus and Tina Wang from Wiley presented "How to promote your research through a scientific journal?"

Wenhua Xiong introducing INZ (left); Carol Bacchus delivering her presentation (right)
At the end of the Seminar, 3 speakers at the Symposium were awarded the "Integrative Zoology Exceptional Speaker Prize." The recipients of the award were Min Lu from IOZ, CAS, China; Xiaodong Jiang from the School of Life Science, East China Normal University, Shanghai, China; and Anastasia Antonevich, the Scientific Secretary of the Russian Theriological Society, A. N. Severtsov Institute of Ecology and Evolution, Russian Academy of Sciences, Russia. All of them were awarded a free one-year online subscription to INZ.

John Buckeridge presenting the "Integrative Zoology Exceptional Speaker Prize" to the recipients, Min Lu (left) and Anastasia Antonevich (right)
Following the Seminar, INZ had its Editorial Board meeting, chaired by Editor-in Chief, Zhibin Zhang. 20 INZ editorial board members, as well as some ISZS EC members, ISZS Institutional Members and Symposium attendees participated in the meeting. Issues concerning the future direction of INZ and how to promote the journal were addressed.
According to a report released by Thomson Reuters in June 2013, the impact factor of INZ is 1.288. This is a 6% increase from 2011 and INZ ranks in the top 38.9% (58 out of 149) of the zoological journals in JCR, reflecting a 23% increase over the last 12 months. Furthermore, according to the Publisher's Report 2012, prepared by Wiley-Blackwell Publishing Asia Pty Ltd, there was 15% increase in institutional subscriptions in 2012 and there were 24,892 full-text downloads, a 40% rise from the previous year. Currently, Integrative Zoology is available in 2,043 institutions worldwide.

Zhibin Zhang, Editor-in-Chief of INZ, chairing the meeting (left); some attendees of the INZ Editorial Board meeting
Alongside the Symposium, ISZS had its Institutional Member meeting on the morning of 28th June, followed by an ISZS Executive Committee (EC) meeting in the afternoon.
At the ISZS Institutional Member meeting, the ISZS Secretariat reported on ISZS business, INZ and the BCGC Program. Yoshitaka Nagahama, Vice President of ISZS presented a report on preparations for the 22nd ICZ in Okinawa, Japan, 12–17th November 2016. Each Institutional Member Representative at the meeting gave a 5-minute introduction on their institutions and addressed questions related to ISZS business, development and the role of Institutional Members.

ISZS Institutional Member meeting on 28th June 2013 (left); some representatives of Institutional Members (right)
The EC meeting was chaired by Zhibin Zhang. In attendance were: Abraham Haim, Yoshitaka Nagahama, Juergen Heinze, Sarita Maree, Jean-Marc Jallon and John Buckeridge. Nathalie Fomproix was also invited to attend the meeting in order to discuss the BCGC Program, jointly supported by IUBS and ISZS.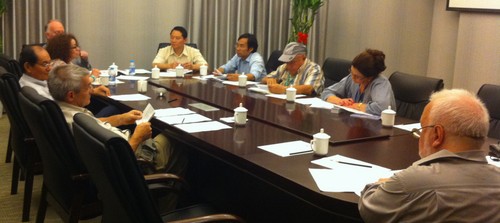 ISZS EC meeting on 28th June 2013
The EC meeting covered many critical issues, such as finalizing the ISZS Statutes, the development of an ISZS Advisory Committee (AC), promotion of INZ, website development, future direction of ISZS international research programs, the 22nd ICZ, increasing membership, the collection of membership fees and the ISZS (Young) Scientist Award, as well as other topics of interest to the EC.
There is wide agreement that the Symposium was a great success. As Rajendran Palaniswami, PG and Research Head, Department of Applied Zoology and Biotechnology, Vivekananda College, Madurai, Tamil Nadu, India wrote in his email to thank the Symposium Organizing Committee, "Congratulations for conducting the symposium successfully and thank you for inviting me for the symposium. The symposium was very good with speakers from all over the globe. Indeed it is a great thing. Hope this type of symposium will improve the current global status of animal science research in the years to come."
ISZS would like to thank the following organizations for their support of the Symposium: IUBS; Bureau of Major Research and Development Programs and Bureau of International Cooperation, CAS; Department of International Affairs, CAST; Department of Life Science, National Natural Science Foundation of China; IOZ, CAS; China Zoological Society; CCIUBS and John Wiley & Sons, Inc.