Avermectins (AVMs), which are macrocyclic lactones initially extracted from Streptomyces avermitilis, are highly effective biological anthelmintics. AVMs are widely used for the management of agricultural and parasitic infections. With the widespread use of AVMs, the resistance to AVMs in pest worms and insects are becoming increasingly serious. As a result, higher doses of AVM have been applied to treat resistant pests, which significantly increased pesticide residues in both agricultural products and environment, which poses huge threat to human health and the environmental safety. Most studies on the development of pesticide resistance focus on the two mechanisms, i.e., target insensitivity and metabolism resistance. However, since AVMs mainly kill worms' and insects' larvae via contact, the reduced penetration of AVMs is also important for the development of the AVM resistance. But the detailed molecular mechanisms remain elusive.
The researchers in the Institute of Zoology, Chinese Academy of Sciences lead by Dr. Yi-Jun Wu used the larvae of Drosophila melanogaster as the model organism to explore the molecular mechanisms underlying the AVM penetration resistance. They obtained the AVM resistant stain by culturing Drosophila in culture medium supplemented with increasing concentrations of AVM. By comparing the resistant strain and the susceptible strain, they clearly showed that the resistant strain had lower AVM penetration due to the thickened chitin layer and the overexpressed efflux transporter P-glycoprotein (P-gp) in the larvae epidermis. They revealed that in the resistant larvae, the epidermal growth factor receptor (EGFR)/AKT/ERK pathway was overactivated, which further induced the overexpression of the chitin synthases DmeCHS1/2 and P-gp. Furthermore, they discovered for the first time that AVM directly interacted with EGFR and lead to the activation of the EGFR/AKT/ERK pathway, which activated the transcription factor Relish and induced the overexpression of DmeCHS1/2 and P-gp. These findings provided new insights into the molecular mechanisms underlying the development of penetration resistance to pesticides as well as drugs. This study not only revealed the mechanisms underlying the pesticide/drug resistance, but also provides the scientific basis for developing novel strategies to counteract pesticide/drug resistance.
The above results have been published online in the recent issue of Open Biology (http://dx.doi.org/10.1098/rsob.150231).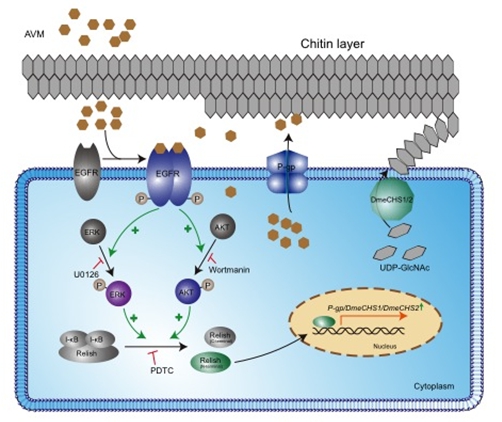 Schematic illustration of the mechanism of avermectin-induced penetration resistance