The TGF-β superfamily consists of more than forty secretory proteins, which are divided into TGF-β/Activin/Nodal and BMP/GDF/MIS subfamilies according to their functional differences. Nodal is a member of the TGF-β superfamily and plays an important role in the early development of vertebrate embryos such as mesoendoderm induction, neural patterning, gastrulation movement, asymmetry of visceral organs and so on. In the process of early embryonic development, little is known about the regulation of the Nodal pathway. And it is also poorly understood about the spatial and temporal-specific expression of the target genes regulated by Nodal signaling and the developmental function of these genes. These issues are forefront and hot spots in the field of developmental biology. The answers to these questions will not only reveal the new molecular mechanisms of Nodal signal pathway, but also provide new mechanisms of embryonic development.
Actin binding protein Fascin1, a new identified Nodal/Smad2 target gene highly expressed in most of the currently known tumors, participates in the formation of pseudopodia and synapses in tumor cells and is associated with poor prognosis, short survival and strong metastasis in cancer patients. The cytoskeleton includes tubulin, actin and intermediate filament. Microtubule system is involved in the regulation of TGF-β signal pathway, but whether actin also regulate the TGF-β signaling is unclear. On the basis of previous work, and using a variety of experimental methods, Wang Qiang's group found that in the endoderm formation of zebrafish embryos, Fscn1 is specifically expressed in mesoendodermal precursor cells of the gastrula, and its expression is directly regulated by TGF-β/Nodal signaling. Fscn1 and its F-actin binding activity are critical for the activation of the Nodal/Smad2 signaling and endoderm formation in zebrafish embryos and mammalian cells. As a linker of TGF-β/Nodal type I receptors and F-actin, Fscn1 enhances TGF-β signal transduction by promoting the transport of endocytic receptors from clathrin mediated endosome to early lysosome. Since the important role of Fscn1 and TGF-β signaling in tumor formation and progression, this positive feedback regulation mechanism between Fscn1 and TGF-β/Nodal signaling also has important implication for oncology.
These results were published in Nature Communications (http://www.nature.com/articles/ncomms12603). Dr. Zhaoting Liu is the first author of this paper. This work was supported by grants from the National key research and development program of China and the National Natural Science Foundation of China.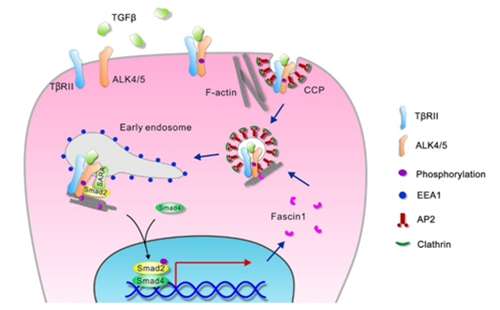 Proposed mechanism of the function of Fscn1 in trafficking and signaling of TGF-β type I receptors. TGF-β/Smad signal induces the expression of fscn1 gene and Fscn1 protein acting as a molecular linker between TGF-β family type I receptors and the actin cytoskeleton, which promotes the trafficking of internalized receptors from clathrin-coated vesicles to early endosomes, thereby enhancing TGF-β signal activity. TβRII, TGF-β type II receptor; CCP, clathrin-coated pit; AP2, assembly polypeptide 2.