During the development of vertebrates, the gastrula stage is an important period for the axis establishment and mesendoderm formation. The establishment of embryonic body axis is the consequence of several signal pathways interactions and cell movement. Dorsal organizer has been found in the fish, amphibians, birds and mammals. The dorsal organizer plays an important role in early embryonic development, itself can form the spinal cord, prechordal plate, neural floor plate, dorsal endoderm and other axial tissues, but also can guide the surrounding cells differentiate into somites, neural tissue, liver, pancreas, etc.. Maternal Wnt/β-catenin signaling is vital for the induction of dorsal organizer, it activates Chordin, Follistatin, Noggin and other factor to antagonize the Bmp signal in the dorsal region, thus make the Bmp signal form a certain concentration gradient to guide the establishment of dorso-ventral axis. In zebrafish embryos, β-catenin has been accumulated in the nucleus of dorsal marginal blastoderm at 128 cell stage, but does not activate target genes expression until mid-blastula transition (MBT). Some studies have shown that the epigenetic modification of promoter DNA and histones during the MBT are the basis of Wnt target genes expression, but whether the transcriptional activity of β-catenin itself changes or not is unknown.

Net1 is a guanine nucleotide exchange factor that is highly expressed in various tumor cells and promotes the invasion and metastasis of tumor cells by activating small G protein RhoA. Qiang Wang's group found that Zebrafish net1 is a zygotic gene which expressed specifically in the dorsal organizer. When knocking down the expression of net1, zebrafish organizer was severely affected, and dorsal tissues were significantly reduced. Experiments in embryos and mammalian cells demonstrated that Net1 and its GEF activity are essential for Wnt/β-catenin signaling and dorsal tissues development. Further study showed that Net1 disrupt the formation of PAK1 dimer to activate its kinase activity by activating the G protein of RhoA family, then PAK1 phosphorylated β-catenin 675 Ser to inhibit the binding of β-catenin and HDAC, this is very important in the formation of the dorsal organizer and the dorso-ventral axis. This study revealed that Net1 regulated phosphorylation of β-catenin 675 Ser is a prerequisite for the enhancement of β-catenin transcriptional activity and activation of downstream genes after MBT during embryogenesis. Wnt/β-catenin pathway and Net1 promote the invasion and metastasis of many tumor cells. Therefore, this study also provides insight into the molecular mechanisms of tumorigenesis.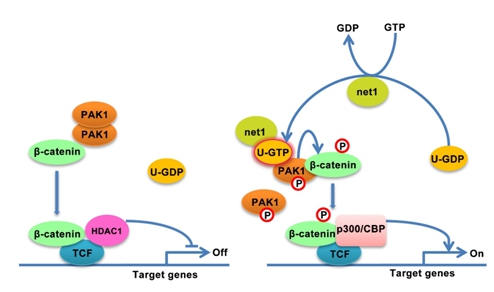 An integrated model for the activation of canonical Wnt signaling by Net1. Net1 promotes PAK1 activity by activate a G protein, then augments the phosphorylation of β-catenin 675 ser, thus enhances the Wnt signaling and organizer induction. U-GDP, GDP-bound form of unidentified GTPase; U-GTP, GTP-bound form of unidentified GTPase.