Allergic asthma is one of the most common chronic diseases, resulting in a substantial burden of diseases. Although rates of deaths due to asthma worldwide have shrunk greatly over the past 25 years, no available therapeutic regimens can yet cure this complex disease. Asthma is a chronic inflammatory disease of the airways characterized by the infiltration of eosinophils, basophils, mast cells, and CD4 T-helper (Th) cells into the airway submucosa, causing the inflammation of the lungs. Recently, it has been found that Th9 cells and IL-9 play important roles in the pathology of allergic asthma. Wild-type p53-induced phosphatase 1 (Wip1, also called PP2Cδ or PPM1D) is a serine/threonine protein phosphatase, which belongs to the type 2Cδ protein phosphatases. Wip1 is an oncogene and is associated with lots of cancers. We recently reported that Wip1 play critical roles in many aspects of hematopoietic and immunology system.
A present study leaded by Prof. Yong Zhao from the State Key Laboratory of Membrane Biology, Institute of Zoology, Chinese Academy of Sciences in collaboration with Prof. Jun Lv from Beijing YouAn Hospital, Capital Medical University and Prof. Lianfeng Zhang from Chinese Academy of Medical Sciences and Peking Union Medical College, reveals that phosphatase Wip1 specifically regulates Th9 cell differentiation through JNK-c-Jun/c-Fos signal pathway; Wip1-deficient mice showed alleviative allergic airway inflammation with less Th9 cells in vivo; Wip1 inhibitor treatment significantly prevents the pathogenesis of allergic airway inflammation in mice. This study suggested that Wip1 inhibition might have important implications for clinical application to treat allergy inflammation.
The manuscript of this research project entitled "Phosphatase Wip1 controls the development of Th9 cells and allergic airway inflammation" has been published online in Journal of Allergy and Clinical Immunology (DOI: http://dx.doi.org/10.1016/j.jaci.2017.06.026). This work was supported by grants from the National Natural Science Foundation for General and Key Programs, the National Basic Research Program of China, Knowledge Innovation Program of Chinese Academy of Sciences, CAS China Manned Space Flight Engineering Project of life science experiments, the CAS/SAFEA International Partnership Program for Creative Research Teams, and "215" high-level health technology project.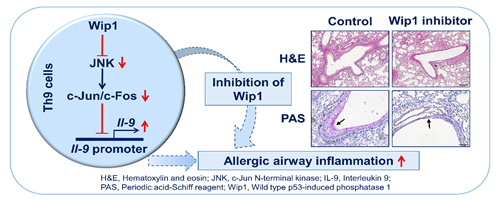 Contact:
Yong Zhao, MD, PhD
State Key Laboratory of Membrane Biology, Institute of Zoology, Chinese Academy of Sciences, Chaoyang District, Beijing 100101, P.R.China
Email: zhaoy@ioz.ac.cn