Human reproductive disorders affect people all over the world, bringing both personal sufferings and heavy social burdens. The advanced assisted reproductive technologies (ART) have helped the couples successfully conceive their babies; however, reproductive wastage frequently occurs even in early stage of embryogenesis with unexplained reasons.
Prior to zygotic genome activation (ZGA), early mammalian development relies on maternal factors stored in the oocyte to orchestrate the oocyte-to-embryo transition (OET) which occurs in the absence of gene transcription.
The last decade has witnessed substantial progresses in better understanding maternal control of mammalian embryogenesis, but our knowledge remains far from complete.
Recently, a subcortical maternal complex (SCMC) was identified to integrate numerous maternal effect genes into multiple processes during the oocyte-to-embryo transition in mouse.
Mounting evidences show that the SCMC and its components are conserved among mammals including humans, suggesting that the SCMC may serve as a useful tool to exploit the molecular basis for mammalian early embryogenesis.
Lately, Dr. LI Lei and his colleagues from the Institute of Zoology of the Chinese Academy of Sciences have made great efforts to understand the biology of the SCMC, they were invited by Trends in Molecular Medicine to write an Opinion Review entitled with "A Maternal Functional Module in the Mammalian Oocyte-To-Embryo Transition".
In this review, they summarized current progresses of the SCMC, and propose that this complex is a representative example of maternal functional modules in mammalian early embryogenesis.
The module notion will significantly promote the understanding of maternal regulation of mammalian early embryogenesis, including that of humans, therefore helping to explain the pathogenesis of certain female reproductive diseases.
This work is supported by the programs from the Ministry of Science and Technology of China, the National Natural Science Foundation of China and the Chinese Academy of Sciences.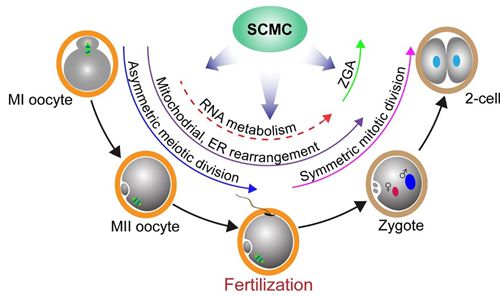 The functions of SCMC in the oocyte-to-embryo transition in mammals (Image by IOZ)