There are two distinct types of fat in most eutherian animals: white adipose tissue (WAT) for energy storage and brown adipose tissue (BAT) for energy expenditure. BAT plays an critical role in thermoregulation and combating obesity through burning fat, which relies on the function of uncoupling protein 1 (UCP1). It has been reported that pigs lack functional UCP1 and brown fat, which makes them susceptible to cold and prone to fat deposition and results in neonatal mortality and decreased production efficiency.
However, some pig breeds, such as the Tibetan pig and the Min pig, are well-recognized to be cold tolerant, the exact metabolic mechanisms by which these pigs have adapted to the cold environment are currently unknown. Collaborated with Dr. Jin Wanzhu from the Institute of Zoology of the Chinese Academy of Sciences and Dr. Wang Yanfang from Institute of Animal Science of Chinese Academy of Agricultural Sciences, Dr. Zhao Jianguo, from Institute of Zoology of the Chinese Academy of Sciences, have revealed that cold-tolerant pigs utilise a novel mechanism involving UCP3 (a member of UCP family) in beige adipocytes as the primary thermogenesis mechanism. Paper link: https://www.ncbi.nlm.nih.gov/pubmed/28486585
Further, due to the critical role of UCP1 in protecting against cold and regulating energy homeostasis, this team generated the UCP1 site-specific knock in (KI) pigs by a CRISPR/Cas9-mediated, homologous recombination-independent approach. The resultant UCP1 KI pigs showed an improved ability to maintain body temperature, decreased fat deposition by 4.89%, and increased lean body mass by 3.38% without affecting physiology or fertility. The development of this pig model is not only valuable for the alleviation of a major economic and welfare issue but also leads to the improvement of economically important pig meat traits. The entitled paper"Reconstitution of functional UCP1 using CRISPR/Cas9 in the white adipose tissue of pigs decreases fat deposition and improves thermogenic capacity"was published online of PNAS on Oct 23. The paper can be found by the link: http://www.pnas.org/content/early/2017/10/17/1707853114.abstract
This research has been attracted attentions from the international media and wildly reported. Here are the links from National Public Radio and Science magazine:
This study was supported by the National Transgenic Project of China, the Strategic Priority Research Programs of the Chinese Academy of Sciences, the National Natural Science Foundation of China and the National Program on Key Basic Research Project.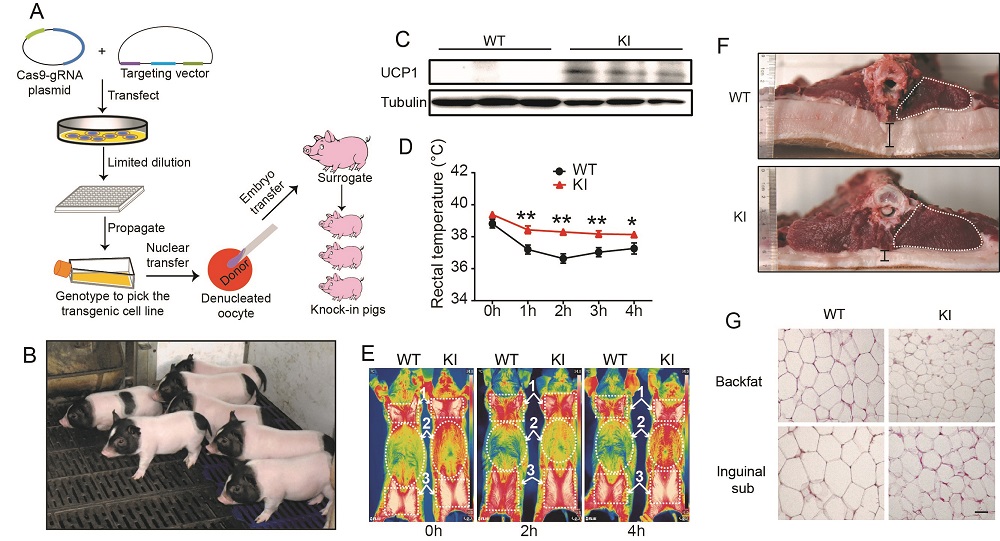 (A-C) Construction of UCP1 KI pigs and detection of UCP1 expression. (D-E) UCP1 KI pigs showed improved thermoregulation capacity during acute cold exposure. (F-G) UCP1 KI pigs showed reduced fat deposition and higher lean meat percentage.
Contact:
Jianguo Zhao, PhD
State Key Laboratory of Stem Cell and Reproductive Biology, Institute of Zoology, Chinese Academy of Sciences, 1 Beichen West Rd, Chaoyang District, Beijing 100101, China;
Email: zhaojg@ioz.ac.cn