Monocyte/macrophage plays a critical role in innate immunity against invading pathogens and tissue repair during the period of inflammation resolution. However, the molecular mechanism underlying the development of monocyte/macrophage has not been fully elucidated.
Recently, Prof. Yong Zhao's group from State Key Laboratory of Membrane Biology, Institute of Zoology, Chinese Academy of Sciences, together with Prof. Bingyi Shi from 309 Hospital of Chinese People's Liberation Army and Prof. Lianfeng Zhang from Institute of Laboratory Animal Science, Chinese Academy of Medical Sciences, has identified the molecular mechanism responsible for the development of monocyte/macrophage at the early stage.
They reveals that mTOR intrinsically controls monocyte/macrophage development as evidenced by the decreased percentages and cell numbers of CD11b+F4/80+ cells caused by mTOR inhibition in SCID mice, mTOR-deficient mice, mixed chimera mice and the in vitro colony formation and monocyte/macrophage induction assays. However, the Lyzs-mTOR KO mice displayed normal levels of monocytes/macrophages, indicating that mTOR is not essential for the survival and maturation of monocytes/macrophages.
Further studies showed that mTOR deficiency significantly reduced M-CSF receptor CD115 expression at the transcriptional and translational levels. The molecular mechanism studies indicate that mTOR masters monocyte development via STAT5-IRF8-CD115 pathway.
This study indicates that long term usage of RPM may cause defect of myeloid progenitors in bone marrow, which should cause us caution in clinics.
This work entitled "mTOR masters monocyte development in bone marrow by decreasing the inhibition of STAT5 on IRF8" has been published online on the journal of Blood on Feb. 20, 2018 (https://doi.org/10.1182/blood-2017-04-777128). Drs. Yang Zhao, Xiaofei Shen from State Key Laboratory of Membrane Biology, Institute of Zoology, Chinese Academy of Sciences, as well as Dr. Ning Na from The Third Affiliated Hospital of Sun Yat-sen University are the co-first authors, and the corresponding authors are Prof. Yong Zhao, Prof. Bingyi Shi and Prof. Lianfeng Zhang.
This work was also supported by the National Natural Science Foundation for General and Key Programs, the National Key Research and Development Program of China, Knowledge Innovation Program of Chinese Academy of Sciencesthe China Manned Space Flight Technology Project, and the CAS/SAFEA International Partnership Program for Creative Research Teams.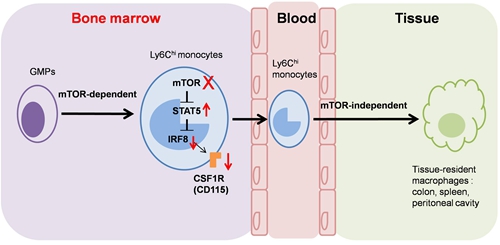 mTOR masters monocyte/macrophage development