Autism spectrum disorder (ASD) is a group of neuropsychiatric disorders characterized by restricted interests, repetitive behaviors, and difficulty with social communication and interaction. The molecular mechanisms underlying the pathogenesis of ASD are poorly understood. Previous meta-analyses combining genome-wide association studies identified MIR137 as a candidate ASD gene. However, whether the dysregulation of miR-137 leads directly to the phenotypes associated with ASD remains to be determined.
In a recent study published in Nature Neuroscience, an international research team led by Drs. Zhao-Qian Teng and Dahua Chen from the Institute of Zoology, the Chinese Academy of Sciences, and Dr. Peng Jin from the Department of Human Genetics, Emory University School of Medicine, generated a miR-137 conditional allele to examine the impact of miR-137 loss of function in vivo. They found that partial loss of miR-137 in mice leads to repetitive behaviors, impaired sociability and social novelty preference, and deficits in learning and memory.
Scientists then observed that many upregulated ASD candidate genes were significantly associated with miR-137 predicted targets by combining large-scale proteomic analyses with gene expression profiling. Among the targets with most-changed protein levels, phosphodiesterase 10a (PDE10A) is significantly elevated in miR-137 heterozygous knockout mice. Inhibition of PDE10A by either short hairpin RNA (sh-Pde10a) or specific inhibitor (papaverine) ameliorates abnormal behaviors associated with the partial loss of miR-137.
Given the known genetic association between MIR137 and neuropsychiatric disorders, their findings provide direct evidence that dysregulation of miR-137 directly contributes to the molecular pathogenesis of neuropsychiatric disorders. Importantly, this research suggests that PDE10A should be a potential therapeutic target to a subgroup of ASD associated with the partial loss of MIR137.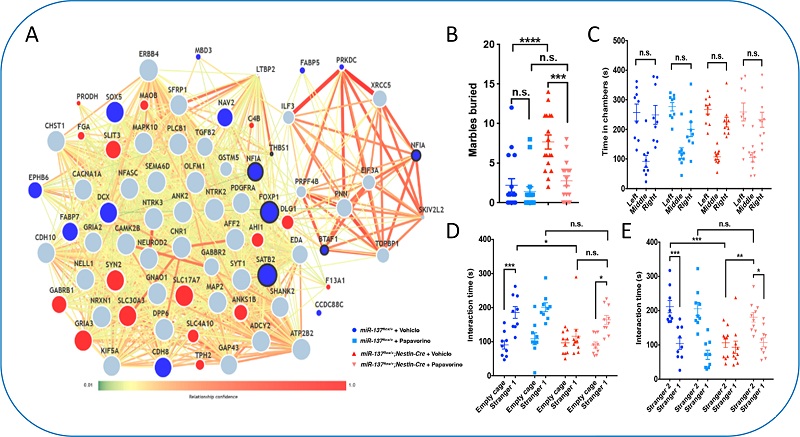 MiR-137-mediated regulation in ASD candidate genes interactome (A), and rescue effect of PDE10A inhibitor in miR-137 heterozygous knockout mice (B, C, D, E) (Images by Ying Cheng and Zhi-Meng Wang)