In eukaryotes, the ability of a cell to properly execute diverse cellular functions depends largely on its intracellular organization and compartmentalization. In addition to membrane-bound compartments (e.g., mitochondria and lysosomes) that can separate biomolecules through bilayer-lipid membranes and enable them to achieve their functions, some biomolecules such as RNA-binding proteins (RBPs) and RNAs can form non-membrane-bound granules that behave like cellular compartments to play important cellular functions, such as determining cell fate. For example, germ granules are essential for germline specification in embryos of worm and fly. It has been well-documented that RNA granules contain RNAs and RBPs, many of which harbor RNA-binding domains such as KH and RRM domains, allowing RBPs to selectively bind target mRNAs and control their fate and function. Recent studies have suggested that many RBPs also harbor intrinsically disordered low-complexity domains (LC domains). LC sequences within a variety of RBPs can promote these proteins to form amyloid-like aggregates both in vivo and in vitro. It is worth noting that some RBPs not only contain LC sequences but also possess enzyme activity, raising the possibility that some RNA granules may have as-yet-unidentified biochemical functions, beyond their role in regulating the fates or functions of their bound RNAs.
The ovarian tumor (OTU) family protein have been shown to function as deubiquitinases (Dubs) to remove Ub modifications and control a variety of important signaling cascades. Drosophila Otu is the first characterized member of OTU family proteins. Drosophila Otu has been shown to associate with RNA and functions as a Dub to regulate the fate of germline stem cells and oogenesis. Interestingly, Drosophila Otu also harbors a typical LC domain; however, the molecular mechanism underlying the action of LC in Drosophila Otu remains unknown.
Dahua Chen and Qinmiao Sun groups from Institute of Zoology, CAS shed light on this issue by investigating the biochemical properties and biological functions of Drosophila Otu. They showed that the LC domain is essential for Otu to aggregate into amyloid-like fibers both in vitro and in living cells. More importantly, aggregation is indispensable for Otu's enzyme activity, and LC domain-mediated Otu aggregation and its enzyme activity are also modulated by the bound RNAs. Their genetic assays suggest that Otu can form RNA granules in intestinal cells to maintain intestinal integrity and thus extend the fly lifespan. Mechanistically, they found that aggregation of Otu is amplified by its co-partner Bam, which is up-regulated by chronically increased immune signaling during aging, and the dynamically regulated Otu/Bam Dub complex in turn targets and antagonizes dTraf6 activity, thus alleviating excessive immune deficiency (IMD) signaling. Collectively, our results support the notion that Otu aggregation, via its catalytic function, protects intestinal integrity, thereby extending the fly lifespan.
The roles of amyloid-like aggregates mediated by LC domains have been extensively investigated, with numerous studies focusing on their roles in the pathogenesis of human diseases, such as Huntington's disease, amyotrophic lateral sclerosis, and other neurodegenerative diseases. The studies from Chen/Sun groups suggested that membrane-less RNA granules have the capacity to form specific cellular compartments, in which RBPs/enzymes are highly concentrated. The concentrated biomolecules might provide an optimized microenvironment that allows local enzymatic reactions to occur with high efficiency, thus profoundly influencing related biological processes.
This study is supported by Natural Science Foundation of China, Strategic Priority Research Program of the Chinese Academy of Sciences and the Ministry of Science and Technology of China.
The results, entitled " LC Domain-Mediated Coalescence Is Essential for Otu Enzymatic Activity to Extend Drosophila Lifespan," were published in Molecular Cell.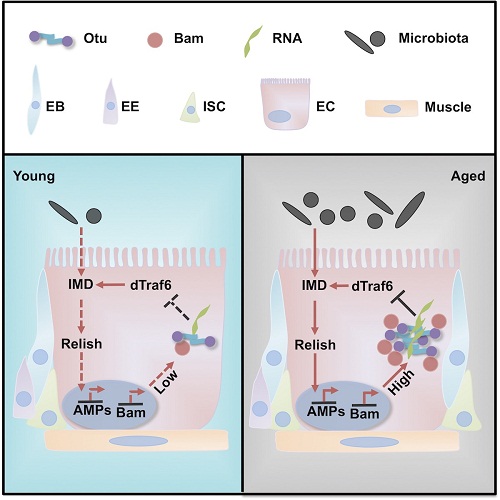 Dynamic regulation of Otu-Bam-dTRAF6 in guts controls fly lifespan (Image by Chen's lab)