In vertebrates, hematopoietic stem and progenitor cells (HSPCs) are generated from the ventral wall of dorsal aorta, through the endothelial-to-hematopoietic transition (EHT). HSPCs are capable of self-renewal and differentiating into all mature blood lineages to maintain lifelong hematopoiesis. Though a list of genes and signaling pathways have been shown to participate in regulating HSPC formation, our understanding on the mechanism of HSPC development is far from complete.
The Hematopoietic and Cardiovascular Development Group in Institute of Zoology, Chinese Academy of Sciences, led by Prof. Feng Liu is mainly interested in studying hematopoiesis and stem cell development, by using zebrafish and mouse models. In collaboration with Prof. Xuemin Zhang and Huiyan Li from National Center of Biomedical Analysis, they identified that a centrosome protein FSD1 anchors microtubule (MT) asters. FSD1 knockdown causes defective ciliogenesis and affects embryonic development in vertebrates. Further analysis showed that disruption of MT aster anchorage by depleting FSD1 or other known anchoring proteins delocalizes the transition zone (TZ) assembly factor Cep290 from centriolar satellites, and causes TZ assembly defects. Thus, this study reveals an important function of MT asters anchored by FSD1 in TZ assembly during ciliogenesis (Nat Commun. 2018, 9(1):5277).
Through live confocal imaging of transparent zebrafish embryos, they found that the hairy-like organelle, cilium, exists on vascular endothelial cells (ECs) of the aorta-gonad-mesonephros (AGM) region, and the cilia number on the vascular ECs was decreased from 32 hours post fertilization (hpf) to 52 hpf. Knocking down or knocking out of the cilia-specific genes, such as fsd1 and ift88, disrupted HSPC formation as well as hemogenic endothelium (HE) specification. Mechanistically, the expression of genes involved in Notch signaling was significantly down-regulated in fsd1-deficient embryos. Immunofluorescence also showed the decreased frequency of cells with nuclear-localized notch intracellular domain (NICD) in cilia-deficient human retinal pigment cells in vitro. Moreover, overexpression of NICD restores the hematopoietic defects induced by cilia deficiency in vivo. Altogether, their findings reveal a pivotal role of endothelial primary cilia in HSPC development, and shed new insights to the in vitro generation of HSPCs for clinical application.
This work was published online in Nat Commun on April 23, 2019, as a research paper entitled "Primary cilia regulate hematopoietic stem and progenitor cell specification through Notch signaling in zebrafish". This work was supported by grants from the Ministry of Science and Technology of China, the Strategic Priority Research Program of the Chinese Academy of Sciences, China, and the National Natural Science Foundation of China.
Website: https://www.nature.com/articles/s41467-019-09403-7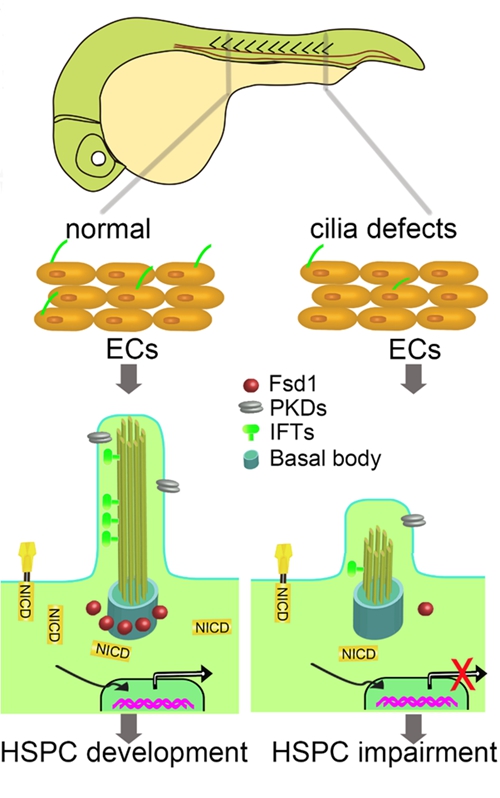 Figure 1. Working model of the role of primary cilia in HSPC development through transducing Notch signaling.