As the population ages, the incidence of diabetes in China has risen sharply over the past 30 years. At present, the number of patients with diabetes in China has exceeded 100 million, along with nearly 500 million pre-diabetic adults (impaired glucose tolerance), which poses a serious challenge to the prevention and treatment of aging-related chronic diseases (e.g. diabetes) in China. Aging-related progressive degeneration of pancreatic islet cells contributes to impaired glucose tolerance and diabetes. However, the high heterogeneity of islet cells, limited source as well as ethical restrictions hinder our understanding of human islet aging and the development of interventions against islet aging and associated diseases.
Recently, researchers from the Institute of Zoology of the Chinese Academy of Sciences, Peking University and Beijing Institute of Genomics of Chinese Academy of Sciences have cooperated to establish the first transcriptomic atlas of non-human primate pancreatic islet aging. Using single-cell transcriptome sequencing technology, they drew a single-cell aging map of cynomolgus monkey islets, and identified loss of proteostasis as a hallmark and key driver for islet β-cell aging. This study entitled "A Single-cell transcriptomic atlas of primate pancreatic islet aging" is published online in National Science Review on June 10th, 2020.
The researchers employed single-cell transcriptome sequencing technique to characterize molecular signatures for different cells during primate islet aging and identified loss of proteostasis in aged β-cells, characterized by aberrant accumulation of aggresomes and (UPR). Further investigation revealed the dysregulation of UPR pathways related to ATF6 and IRE1, especially the upregulation of the chaperone HSP90B1 in aged β-cells. Furthermore, insulin secretion by β-cells after high glucose stimulation was compromised by the overexpression of HSP90B1, suggesting it as a potential target to regulate insulin secretion.
Taken together, the researchers establish a high-resolution single-cell transcriptomic atlas of non-human primate islet aging and indicates that UPR components may be targetable to improve insulin secretion and glucose tolerance, thus opening new avenues to delaying β-cell aging and developing novel therapeutic strategy for treatment of aging-related diabetes.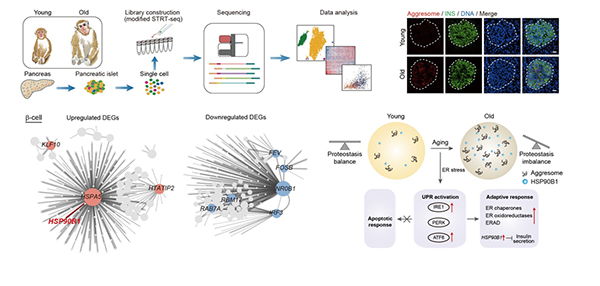 Single-Cell Transcriptomic Atlas of Primate Islet Aging
Link:https://academic.oup.com/nsr/advance-article/doi/10.1093/nsr/nwaa127/5855510#