Aberrant neural differentiation and dendritic morphogenesis in neurons are pervasive in many developmental brain disorders. The histone demethylases UTX regulates the dynamic steady-state levels of di-methylation and tri-methylation of histone H3 lysine 27 (H3K27), which is believed as a repressive epigenetic mark for maintaining transcriptional gene silencing. Deletion of Utx results in increased anxiety-like behaviors and impaired spatial learning and memory in mice. However, so little is known about the function of UTX in human neural differentiation and dendritic morphogenesis.
A study led by Prof. LIU Chang-Mei and Prof. TENG Zhao-Qian from the Institute of Zoology and the Institute for Stem Cell and Regeneration of the Chinese Academy of Sciences presented novel evidence that UTX is a key regulator in human neural differentiation and in dendritic morphogenesis.
This study entitled "UTX Regulates Human Neural Differentiation and Dendritic Morphology by Resolving Bivalent Promoters" has been published online in Stem Cell Reports on July 16th, 2020.
The researchers first conducted CRISPR/Cas9-mediated gene editing to establish two UTX-null hESCs (human embryonic stem cells) clones and found that UTX deletion did not affect pluripotency or self-renewal of hESCs, while H3K27me3 was unchanged upon the deletion of UTX in hESCs.
The researchers next induced hESCs to differentiate towards neural stem cells (hNSCs) to investigate the function of UTX during early neural differentiation of hESCs. They observed that UTX loss-of-function had no obvious effect on the proliferation of hNSCs, but decreased neural differentiation deficiency of hNSCs.
Furthermore, the researchers performed morphology analysis and electrophysiological recordings of hESCs-derived neurons, and they discovered that UTX knockout hESCs-derived neurons exhibited a significant reduction in neurite complexity, as well as impaired electrophysiological features.
To understand the molecular mechanisms underlying the decreased neurite complexity and electrophysiological defects in UTX-null hESCs-derived neurons, the researchers performed RNA-seq of hESCs-derived neurons and finally identified dozens of UTX-regulated genes that are associated with synaptic function, neural development or TGF-beta signaling pathway.
Since UTX gene mutations have been associated with Kabuki syndrome which is a pediatric disorder with different congenital abnormalities and intellectual disabilities, findings in this study may have a clinical importance in the understanding of the disease and potential therapeutic implication.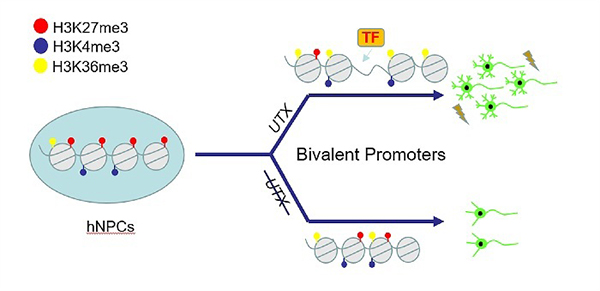 UTX Regulates Human Neural Differentiation and Dendritic Morphogenesis (Image by LIU Chang-Mei's group)
(Contact: Prof. TENG Zhao-Qian, Email: tengzq@ioz.ac.cn)